Historical
The River of Time series – Lisa T. Bergren
WATERFALL: Gabi and Lia are stuck among the rubble of medieval castles in rural Tuscany on yet another hot, boring, and dusty archeological site … until Gabi places her hand atop a handprint in an ancient tomb and finds herself in fourteenth-century Italy.
CASCADE: When Gabi and Lia find themselves back in the fourteenth century—and in the middle of major battles alongside romantic knights in shining armor—they have no idea if they can get back. Or if they even want to.
TORRENT: When Gabi and Lia finally learn to surf the river of time, they realize they must make hard choices about life and love in Torrent, the third and final book in the River of Time series.
BOURNE, a novella, picks up right where TORRENT left off…Find out what has happened to men returning from the battle, gravely wounded, to the Betarrinis, fighting for the men they love, and just who is hunting them next…
TRIBUTARY, a novella, picks up a year after BOURNE… Lia struggles to overcome the fear that constant battle has heaped upon her; Gabi and Marcello face an unexpected crisis; and Lord Greco just may be ready to leave the grief and loss of his past behind him, so that he might grab hold of the future…
DELUGE The Bettarinis and Forellis have found rich fulfillment together in medieval Italia. But after fighting off countless enemies, they now must face the worst foe of all. As the Black Death closes in upon them, threatening everything and everyone they hold dear, Lia and Gabi–and the knights they love–must dig deep within to decide how they might remain safe…and if they need to risk it all in order to truly live as they're called.
Read my recommendation here.
The Merchant's Daughter – Melanie Dickerson
An unthin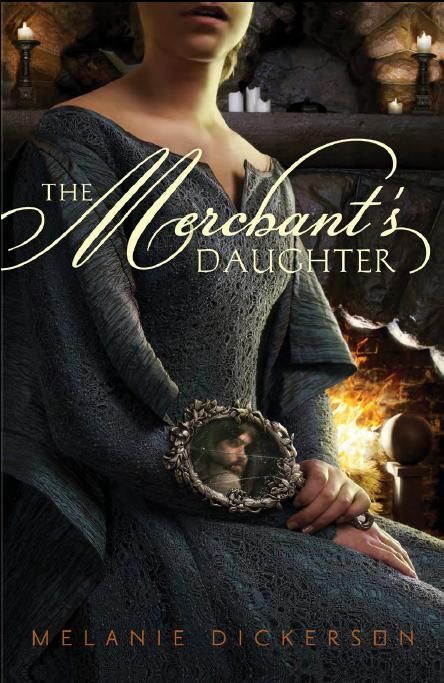 kable danger. An unexpected choice.
Annabel, once the daughter of a wealthy merchant, is trapped in indentured servitude to Lord Ranulf, a recluse who is rumored to be both terrifying and beastly. Her circumstances are made even worse by the proximity of Lord Ranulf's bailiff—a revolting man who has made unwelcome advances on Annabel in the past.
Believing that life in a nunnery is the best way to escape the escalation of the bailiff's vile behavior and to preserve the faith that sustains her, Annabel is surprised to discover a sense of security and joy in her encounters with Lord Ranulf. As Annabel struggles to confront her feelings, she is involved in a situation that could place Ranulf in grave danger.
Ranulf's future, and possibly his heart, may rest in her hands, and Annabel must decide whether to follow the plans she has cherished or the calling God has placed on her heart.
The Fairest Beauty – Melanie Dickerson
A daring rescue. A difficult choice.
Sophie desperately wants to get away from her stepmother's jealousy, and believes escape is her only chance to be happy. Then a young man named Gabe arrives from Hagenheim Castle, claiming she is betrothed to his older brother, and everything twists upside down. This could be Sophie's one chance at freedom—but can she trust another person to keep her safe?
Gabe defied his parents Rose and Wilhelm by going to find Sophie, and now he believes they had a right to worry: the girl's inner and outer beauty has enchanted him. Though romance is impossible—she is his brother's future wife, and Gabe himself is betrothed to someone else—he promises himself he will see the mission through, no matter what. When the pair flee to the Cottage of the Seven, they find help—but also find their feelings for each other have grown. Now both must not only protect each other from the dangers around them—they must also protect their hearts.
The Captive Maiden – Melanie Dickerson
Happily Ever After …
Or Happily Nevermore?
Gisela's childhood was filled with laughter and visits from nobles such as the duke and his young son. But since her father's death, each day has been filled with nothing but servitude to her stepmother. So when Gisela learns the duke's son, Valten—the boy she has daydreamed about for years—is throwing a ball in hopes of finding a wife, she vows to find a way to attend, even if it's only for a taste of a life she'll never have. To her surprise, she catches Valten's eye. Though he is rough around the edges, Gisela finds Valten has completely captured her heart. But other forces are bent on keeping the two from falling further in love, putting Gisela in more danger than she ever imagined.
The Princess Spy – Melanie Dickerson
In this "Frog Prince" fairy tale retelling, Margaretha has always been a romantic, and hopes her newest suitor, Lord Claybrook, is destined to be her one true love. But then an injured man is brought to Hagenheim Castle, claiming to be an English lord who was attacked by Claybrook and left for dead. And only Margaretha—one of the few who speaks his language—understands the wild story.
Margaretha finds herself unable to pass Colin's message along to her father, the duke, and convinces herself "Lord Colin" is just an addled stranger. Then Colin retrieves an heirloom she lost in a well, and asks her to spy on Claybrook as repayment. Margaretha knows she could never be a spy—not only is she unable to keep anything secret, she's sure Colin is completely wrong about her potential betrothed. Though when Margaretha overhears Claybrook one day, she discovers her romantic notions may have been clouding her judgment about not only Colin but Claybrook as well. It is up to her to save her father and Hagenheim itself from Claybrook's wicked plot.
Read my recommendation of this book here.
A Dream Not Imagined – Shantelle Hannu
A MAID, a PRINCE, and a DUKE. A STEPMOTHER, a GARDENER, and a secret…
Ellie Abbington, a beautiful yet unassuming young woman, quietly longs for her life to change. Too privileged to associate with the servants—too underprivileged to associate with her own family; she dreams a dream of a prince and a happily ever after.
But it could be that her own stepsisters, conniving Dezmarie and easily-influenced Adelaide, are dreaming the same dream…of the same prince.
In the end, are dreams even all they're made out to be? Especially with deep and long-hidden secrets about to be unearthed?
Read my recommendation of this novella here.
The Vow – Jody Hedlund
In this historical romance novella by Jody Hedlund, young Rosemarie finds herself drawn to Thomas, the son of the nearby baron. But just as her feelings begin to grow, a man carrying the Plague interrupts their hunting party. While in forced isolation, Rosemarie begins to contemplate her future—could it include Thomas? Could he be the perfect man to one day rule beside her and oversee her parents' lands?
Then Rosemarie is summoned back to her castle in haste. The disease has spread, and her family is threatened. And the secret she discovers when she returns could change her future forever.
An Uncertain Choice – Jody Hedlund
Due to her parents' promise at her birth, Lady Rosemarie has been prepared to become a nun on the day she turns eighteen. Then, shortly before her birthday, a friend of her father's enters the kingdom and proclaims her parents' will left a second choice—if Rosemarie can marry before the eve of her eighteenth year, she will be exempt from the ancient vow.
Before long, Rosemarie is presented with the three most handsome and brave knights in the land. But when the knights' arrival results in a series of attacks within her land, she begins to wonder if the convent is the best place after all. If only one of the knights—the one who appears the most guilty—had not already captured her heart.
Read my review of An Uncertain Choice and The Vow here as well as an interview with the author.
Tales of Taelis Book 1 – Adventures and Adversities: Sarah Holman
One day Alditha is content living with her family, the next she is taking her friend's place to serve at the king's castle. Her father's final instructions, to keep smiling and to do what is right, will be harder to live out than she ever imagined. She will face a royal nephew who delights in making people miserable, an angry servant girl who will stop at nothing to get what she wants, and noblemen who plot murder. Will she be able to keep the promise she made to her father? Will she find the faith she longs for during all her Adventures and Adversities?
Read my recommendation of this book here.
Tales of Taelis Book 2 – Brothers and Betrayal: Sarah Holman
A boy, running for his life
A princess, trying to save her people
And an archer who seeks to defend the defenseless
Bryon, after witnessing his brother's murder, takes his sisters and flees into the woods to a mysterious figure known as The Archer who lives there. But though he finds temporary safety, bitterness threatens his heart.
Brianna only wants to help the people of Taelis, but her father, the king, seems bent on making life hard for all of them. She works tirelessly to save the kingdom from war, while secretly helping The Archer.
Valiant Hearts Series Book 1 – Dauntless: Dina Sleiman
Born a baron's daughter, Lady Merry Ellison is now an enemy of the throne after her father's failed assassination attempt upon the king. Bold and uniquely skilled, she is willing to go to any lengths to protect the orphaned children of her former village–a group that becomes known as "The Ghosts of Farthingale Forest." Merry finds her charge more difficult as their growing notoriety brings increasing trouble their way.
Timothy Grey, ninth child of the Baron of Greyham, longs to perform some feat so legendary that he will rise from obscurity and earn a title of his own. When the Ghosts of Farthingale Forest are spotted in Wyndeshire, where he serves as assistant to the local earl, he might have found his chance. But when he comes face-to-face with the leader of the thieves, he's forced to reexamine everything he's known.

by TriciaMingerink with no comments yet.